---
WORSLEY HELIUM PROJECT
HELIUM DISCOVERY WELL "15-25" UNDERPINS PROJECT DEVELOPMENT

Ready to produce helium gas, pending installation of scalable, modular, processing facility.
Helium sales offtake agreement in place, first 5 years fixed pricing, take-or-pay, 20% of production available for direct or alternative sales strategies.
UPSIDE DEVELOPMENT ON ADJACENT HELIUM PROSPECTIVE LANDS

Historically active oil & gas exploration area with attractive helium levels across Trend.
15 additional multi-zone, multi-commodity prospective drill locations and exploration upside potential across 100%-owned land base.
Highly prospective, untested Leduc helium potential on eastern side of land base.
25,000+ acres of new exploration land acquired Summer '22, contiguous with existing helium and oil discoveries.
HELIUM PRODUCTION GROWTH VISIBILITY

Preliminary engineering on helium processing facility completed, evaluating financing alternatives.
On-stream 9-12 months from funding and kick-off.
Natural gas gathering infrastructure in place to expedite on-stream timing.
14-23 Horizontal Well, potential helium target, cased for completion and testing.
The Worsley Project is a
100% owned
60,000-acre
land package covering the prolific Leduc Reef Trend in Northern Alberta, Canada.
---
WORSLEY UNDEVELOPED LANDS



Along the Worsley Trend, oil and gas companies have drilled over 270 wells into the Leduc Formation or deeper. This provides First Helium with an excellent data set to pursue the exploration for helium and hydrocarbons along the trend.


---
WORSLEY AREA POTENTIAL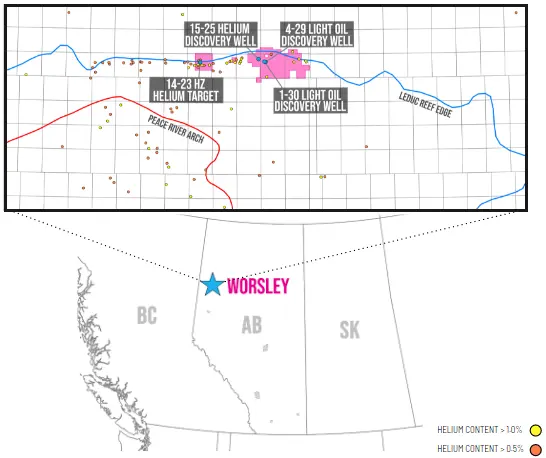 The Leduc Formation consists of a series of patch reefs and associated marine rock units that were deposited along the northern flank of the Peace River Arch. Pools along this trend have produced more than 140 billion cubic feet of natural gas. Approximately 80% of the Leduc wells produced natural gas along with helium, and 20% produced oil.
The Company estimates that the Leduc Formation has produced about 1 billion cubic feet of unrecovered helium in historical natural gas production.
First Helium's discovery well 15-25, drilled in 1999, contains 1.3% helium and 26% nitrogen. The operator shut the well in and didn't produce it due to high nitrogen content, and lower heating value natural gas. However, today the value of the helium changes the economics of these wells.
The granitic rocks underlying the area generate helium from natural radioactive decay. The helium has migrated up into the same rocks that trap hydrocarbons. The Peace River Arch and the Worsley Trend in particular, host multiple formations in addition to the Leduc that contain such traps.
---
Worsley discovery wells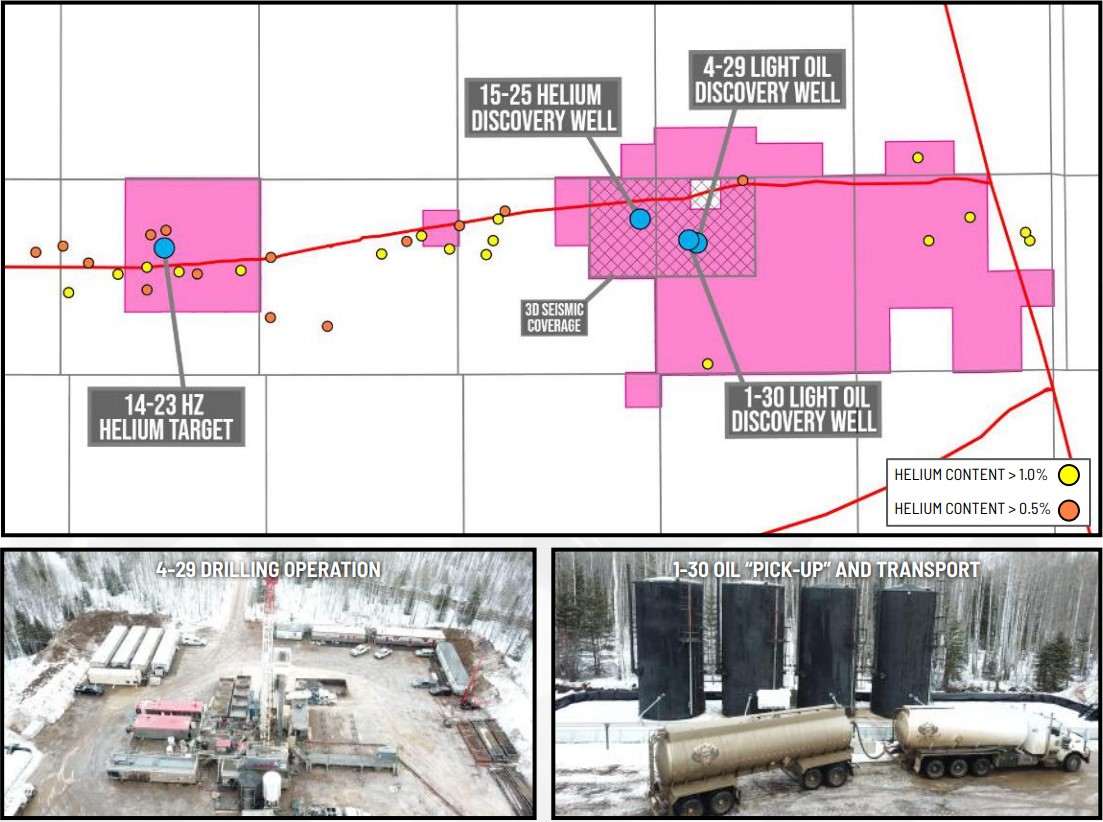 HELIUM DISCOVERY WELL 15-25
1.3% HELIUM
10 DAY FLOW TEST @2MMCF/D
65% NATURAL GAS & 12 BBLS/MMCF OF CONDENSATE
CONFIRMS 3D SEISMIC MODEL
HELIUM TARGET WELL 14-23
HORIZONTAL WELL
CASED, AWAITING COMPLETION
SUCCESSFUL TEST SETS UP POTENTIAL REGIONAL PLAY
LIGHT OIL DISCOVERY WELL 1-30
DRILLED ON 3D SEISMIC
ON-STREAM JANUARY 23, 2022
WELL PAY-OUT < 2 MONTHS
LIGHT OIL DISCOVERY WELL 4-29
DRILLED ON 3D SEISMIC
ON-STREAM APRIL 8TH, 2022
---
Worsley PIPELINE INFRASTRUCTURE ACQUIRED



Legend:
Acquired Gathering Lines
Natural Gas Sales Line (TC Energy)
3rd Party Gathering & Processing
NATURAL GAS GATHERING SYSTEM
46 km of natural gas gathering lines
Facilitates development across entire Worsley Trend
Estimate replacement cost of $7 - 9 mm
Includes ~ 3,700 net acres of undeveloped land
All-in acquisition cost < $750k